Beetroot & Avocado Tower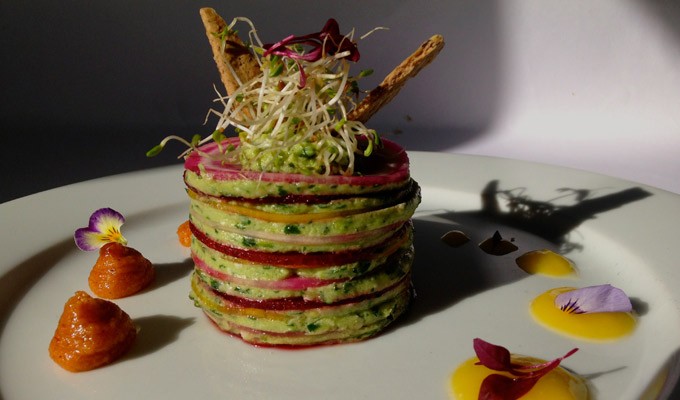 I was experimenting last week for our yoga brunch on the 11th April.  We decided to do a raw vegan menu to open people's eyes that it doesn't have to be a freaky, hessian-wearing thing to do, not to mention having great benefits on your health.  I am also learning a whole new style of cooking which is cool.  I couldn't sleep the other night so started thinking about avocados, as you do, and had to turn the light back on and quickly sketch this in case I forgot it.  I never get something right first time when recipe testing, so thought I should share it.
Beetroot and avocado tower
1 golden beetroot
1 candied beetroot
1 normal beetroot
Avocado cream
1 ripe avocado
1 tbsp melted coconut oil
50g coriander
1 tsp water
Juice and zest of 1 lime
A generous pinch of salt
Peanut & chilli butter
200g raw peanuts
1 hot red chilli
1 tsp salt
1 tbsp olive oil
Mango & yuzu puree
½ mango
1/2 tbsp yuzu juice
Method
Slice the beetroots very thinly on the mandolin and cut them into identical circles using a cutter – about 7cm.
Blend all the avocado ingredients together until you have a smooth cream, put in a piping bag.
Blend the mango and yuzu juice together into a puree and put into a piping bag.
To make your peanut butter, put your peanuts and chilli into a high speed blender, stirring and scooping round the edges every minute. After 3 or 4 minutes they will turn into a butter. Add your oil and salt. Put in a piping bag.
To assemble, pipe a circle of avocado cream around the edge a disc of red beetroot, top with a yellow slice and repeat. Top with a pink slice and repeat. Repeat until you have a nice stack, finishing with the candied beetroot on top. Pipe a blob of avocado and slot in shards of raw crackers.
Pipe dots of puree and peanut butter around the plate. Garnish with micro herbs and flowers.