Rhubarb & amaretto Bakewell tart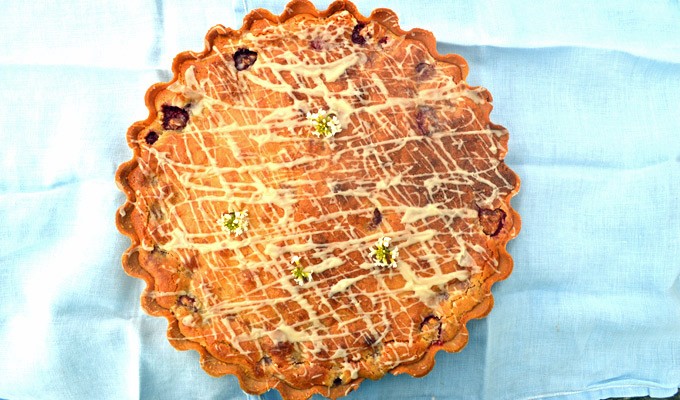 Here's a big old naughty pudding for Easter lunch this Sunday.  I'm so happy it's rhubarb time again.  Make sure you buy the juicy pink guys and not the less ripe green ones.
Makes a 23cm diameter tart, so feeds 6 -8
For the pastry
200 g plain flour
2 tbsp icing sugar
100 g cold unsalted butter, diced
1 medium egg
2–3 tsp ice-cold water
For the filling
400g rhubarb
125g butter
125g caster sugar
125g ground almonds
1 free-range egg, beaten
1 tbsp amaretto
For the topping
50g flaked almonds
80g icing sugar
2tsp amaretto
Method
1. Start by making the pastry.  Sieve the flour and icing sugar into a bowl and add the cold cubed butter.
2. With cold hands, rub until the texture is fine crumb texture.  Alternatively do it in a food processor.  A magimix is perfect.
3. With the blade running add your egg until it comes together to form a dough, adding the water if necessary.
4. Chill for 15 minutes at least.
5. The filling couldn't be easier.  Melt the butter and add the sugar, ground almonds, egg and amaretto.
6. Blind bake your tart case.  With a well floured, cold surface and cold hands roll your pastry so it's just larger than your tin and about 0.5cm thick.
7. Carefully, rolling it over your pin, place it over the tart case and carefully press down leaving an small overhang.
8. Crumple up baking paper and then uncrumple, so that you can arrange it in the case.  Put baking beans (or rice) on top.
9. Bake at 180c for 15 minutes, then remove the paper and bake for another 5 to dry out bottom.
10. Cut your rhubarb into 4-5cm pieces and arrange over the pastry at the bottom of the tartlet.
11. Pour the almond mixture over.
12. Bake for about 30 minutes at 180c.
13. Meanwhile, sieve the icing sugar and stir with the amaretto to make an icing.
14. Remove the tart and drizzle the icing on top, with the flaked almonds on top of that.
15. Put back in the oven for 5-10 minutes so the icing goes crispy.
17. Serve with homemade vanilla custard for the ultimate Sunday Lunch pudding!
Here's one I made earlier (last Summer) - with raspberries - tooooo good!