Superfood Mince Pies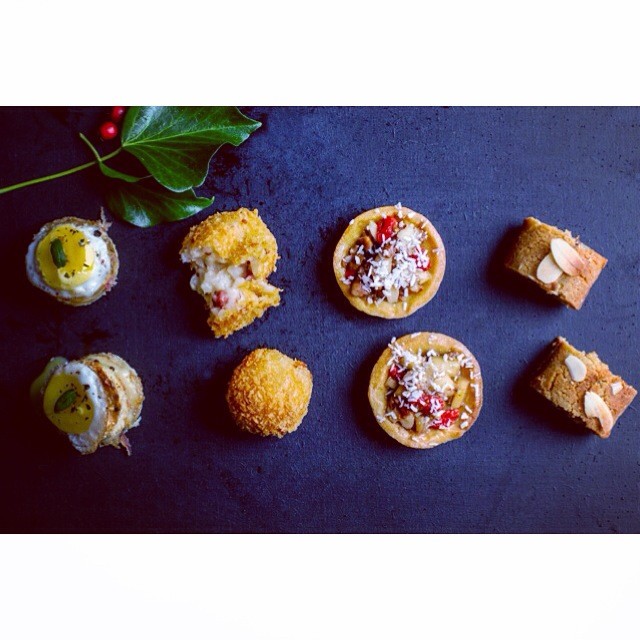 Christmas can be a bit lonely if you're lactose or gluten intolerant ... give these angelic ones a go.  Sugar, dairy and gluten free!  I was getting pretty bored of that heavy mince meat flavour so I decided to experiment with a lighter, tarter mix  full of superfoods.  And my amazing kitchen mate, Danielle Copperman of Model Mange Tout came up with this amazing pastry recipe using coconut oil and buckwheat flour.
The mince pie can be traced right back to the 13th Century when Crusaders brought back their foodie knowledge from the Middle East.  Recipes with meat, fruit and spices were on trend at the time - Ottolenghi eat your heart out.  And before fridges, fruit juices were another way of preserving meat. The Brits chucked in mutton, liver, shredded goose ... or "neats tongue" according to this recipe ... not sure you'd find that down Borough Market nowadays.
Superfood mince pies with coconut and buckwheat pastry
Makes about 24 (large ones)
For the mincemeat:
1 bramley apple, finely diced
A handful of dried figs, chopped small
A handful of dates, chopped small
A handful of apricots, chopped small
A handful of cranberries, chopped small
Flaked, toasted almonds
1 tbsp goji berries
1 tbsp chia seeds
1 tbsp linseeds, sesame seeds and toasted sunflower seeds
A handful of toasted nuts (pecans, macadamias, hazelnuts etc)
1 tsp cinnammon
1 tsp cardamom
Grated nutmeg
Agave or honey to taste
Zest and juice of a lemon and lime
Fresh squeezed orange and carrot juice.
The mincemeat recipe is a bit of a movable feast, I add a bit more of this and that according to taste ....  Mix all of the above together and add more orange juice, agave or brandy/amaretto to taste.  You want it quite wet and gooey.
For Danielle's pastry:
"200-250g Buckwheat Flour
100g Ground Almonds
5 tbsps Coconut Oil
Pinch of salt
2 tbsps Creamed Coconut Bar, melted
4 Tablespoons Agave
1 egg
1/2 tsp Bicarb
Preheat the oven to 160c. Grease a muffin tin with a little coconut oil.
Place all of the ingredients but only half of the flour at this point, into a food processor or high speed blender. (To melt the bar of creamed coconut, simply fill a bowl with boiling water and place the sealed bar inside. Let it sit until the water has cooled enough for you to put your hands in it and then massage the bar to quicken up the melting process. Once melted, snip the corner with some scissors and measure out two tablespoons). If using a blender, add the wet ingredients first so the flour doesn't clump around the blade, and blend on a high speed for 20-30 seconds. If the mixture isn't completely smooth this doesn't matter, just make sure the coconut oil is more or less combined. Transfer to a bowl and continue to mix the mixture, adding the remaining flour, until it is completely combined. Add a little more flour if it seems too sticky and wet, or a little more agave if it is too dry. Knead and fold the dough over itself on a floured surface, using the warmth of your hands to melt any small lumps of coconut oil that might remain. Roll the dough out until it is about 3mm thick. This pastry is easiest to work with freshly made and warmer rather than colder, so there is no need to store it in the fridge. The pastry is also a slightly unusual texture, both dry and doughy at the same time, so i find the best way to roll it out without it crumbling/breaking/sticking to the surface is to press down with the rolling pin, rather than just rolling and dragging. Work with it gently. Use a round cookie cutter to make you individual crusts, and use a thin, wide, sharp knife to separate the dough discs if they have become slightly stuck to the surface. Lay each circle into the muffin tin. Leave the leftover dough for the toppings. Bake for 6-8 minutes until the crusts begin to brown, but aren't cooked through. Whilst they cook, prepare the filling."
Shape some hearts and stars and holly with the leftover pastry and bake separately.  Generously fill each pie with the superfood mincemeat and top with the shapes.  Garnish with dessicated coconut and enjoy warm with vanilla ice cream or coconut yoghurt.
These keep well in the fridge for up to 10 days.
If you can't live without that buttery crumbliness in a mince pie, I like this gluten free pastry recipe from Jamie Oliver.
http://www.jamieoliver.com/recipes/fruit-recipes/gluten-free-mince-pies/
Follow Danielle:
http://modelmangetout.com/