Food Crush: STAKEhaus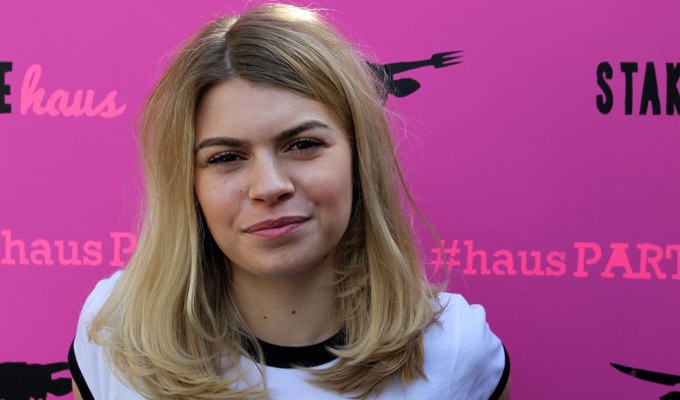 When I started Peardrop, I was lucky enough to have so much support from friends and strangers.  Starting up in food is freakin scary, so it spurs you on when you wonder what the *?*! you're doing to your life!  I thought it'd be cool to meet some other passionate, sorry, crazy people with a foodie dream ... This week I'd like to introduce Lily Bovey ... a young lady with some serious beef!
So what's Stakehaus and what was the inspiration behind it?
STAKEhaus is my very best stab at creating a street food version of 'Steak & Chips'. I'm just getting started but this all began because I wasn't happy with myself just wasting away behind a desk, and at the time everyone was getting very excited about London's street food movement. I wanted to get out there and create something I was going to be proud of. Hopefully STAKEhaus is going to be that thing for me.
Why Steak?
Steak is bloody fantastic that's why! Nothing tops a meal of Steak & Chips in my eyes, it's a meal I've grown up on and one that (if cooked correctly) never lets me down. I think my love affair of Steak stems from its fantastic uncomplicated-ness. Don't get me wrong, I love a good hand-made, supercalifragilistic, meal with all the trimmings as much as the next guy but sometimes all you really want is a hunk of meat and a humble potato, there's underrated comfort in food like that.
What's your beef?
STAKEhaus steak isn't really any different to what you should
expect from a Steakhouse. It's top quality, delicious and juicy but that's how all steak should be, it's a shame that steak nowadays either has to be massively expensive or of lack lustre quality in order for you to find it on your plate. We actually look to use different cuts of meat from the cow that are still as enjoyable to cut down on costs, but will be offering Sirloin, Fillet and Rib-eye on occasions too. To round off the meal we serve it with a choice of either French Fries, Sweet Potato Fries or Courgette Fries – this way the customer can create their perfect version of 'Steak & Chips'. There are also 3 sauces to pick from: Billy Gruff Butter, The Best Béarnaise and a Very Secret SH Sauce. All my meat is British farmed and I try to source as much of my veg from the UK too, we live on this land so we may as well try to eat from it!
How has life changed for you so far?
If you compare my life now to when I was going into Soho everyday to swipe in at my office, it has changed quite dramatically. Today I am my own boss and if something isn't getting done then there is no one else to point the finger at. I am the one laying out plans and also the one making sure they are fulfilled. As stressful as that may sound to some people, I am really loving it. I get up and go in the morning because I want to not because I have to.
Favourite London restaurant?
Has to be Chotto Matte on Frith Street, it throws all my favourite food together in one place. Japanese and Peruvian…. YUM!
Can you share a foodie tip with us? (ie new place to go in London, cooking tip or recipe, ingredient)
I am completely obsessed with pickling at the moment, I have them with everything! If anyone is ever down at Brockley Market then they should check out The Pickle Man (@VadaszDeli) his wares are delicious!
What's your favourite cooking utensil?
I recently bought a spatula from Le Creuset and it has changed my life. I had pretty pathetic one beforehand that never worked properly (not enough bend) and now I actually understand the meaning of them!! I bake a lot so this is a really big deal for me.
Who inspires you in the food world?
Anyone who is willing to step up and have a go… I have so many friends at the moment who are all trying to find their way in the world, some in food, others not. But every single one of them inspires me everyday. When you leave school no really tells you what its going to be like in the 'real world' but you still have to dive in and make yourself accountable, I think anyone who can honestly say they are giving it their best shot is a total hero.
What is your dream for Stake Haus?
The dream is to get a role in a weekly London market and to be out trading as much as possible. That's the best bit so I'll do anything to make it happen. You hear great things about some people who started in street food, so who knows where this path will take me, I'm just happy to finally be on the right road!