Food Crush: Atlantic Kitchen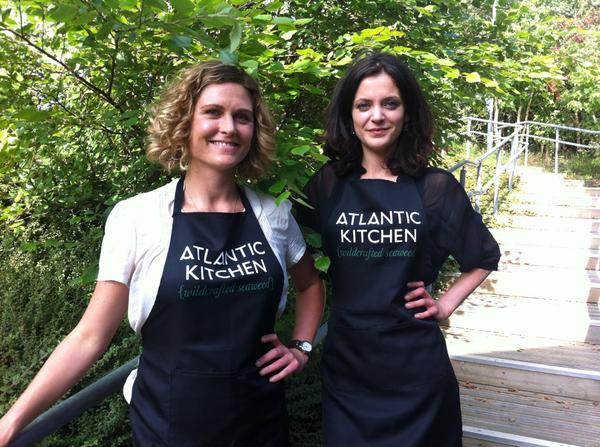 This week I chatted to Ruth Dronfield, co-founder of Atlantic Kitchen, the company bringing delicious, wild and British seaweed into our world and onto our plates...
Tell us about Atlantic Kitchen and what was the inspiration behind it?
Dawn and I started Atlantic Kitchen because we couldn't believe no-one in the UK knew very much about seaweed, apart from a few well-informed health foodies, often from coastal areas. We are both adventurous about food as well, having been bought up by in home environments where tofu, kombucha and wholemeal pizza bases were the norm, so we weren't scared off by how strange seaweed seems to the uninitiated. 
Why seaweed?
Seaweed is local, abundant and sustainable. It requires none of our rapidly diminishing resources – fertile land and fresh water – to grow. It is a vital contributor to the health of the marine environment, grows very quickly and renews itself naturally if harvested properly. As most people know, it is incredibly good for you. It is high in minerals iodine, iron, calcium, magnesium and potassium all of which are crucial for health. Iodine in particular is responsible for the functioning of your thyroid gland, which operates your metabolism among other things so if you don't have enough iodine you can feel tired and sluggish. Over 70% of women in the UK have been found to be iodine-deficient and just a ½ teaspoon of seaweed a day can resolve this completely.
Seaweed as an ingredient is becoming more and more popular, why do you think that is? Was there one particular chef or food producer that led the way?
I think most people have an inkling that seaweed is good for you, but what they don't realise is how delicious it is. So once chefs started to use it and talk about it, seaweed moved from being this weird health food to being a valuable ingredient that could actually make a dish taste better. Ottolenghi was actually our ever first customer - he bought our seaweed for his top London restaurant NOPI and then we started working with Sam Clark at Moro and Bruno Loubet of The Grain Store. All these are visionary chefs who love to experiment with real food, especially vegetables, and have an ethos that really fits with the credentials of seaweed; ethics, health and flavour.
Why do you think it's such a massive part of Japanese culture when it's so common in many countries? Especially ours being an island!
Eating seaweed is common in most coastal populations, it just didn't make it inland other than in Asia and of course is now an integral part of the culture in most countries in Asia. There's actually a historical reason that the Japanese eat so much seaweed, and that's that a British scientist called Dr Kathleen Drew-Baker discovered a way of growing nori commercially, which in turn led to the reinvigoration of the Japanese economy after the second world war. Seaweed saved the lives of thousands of people when the country was poverty-stricken and in turn became part of the daily diet.
How has life changed for you since starting the business?
In terms of daily life on the surface not much has changed; I still work in an office all day, although I used to spend summers in fields as I used to work in the music festival industry. I certainly work longer hours now though! The key difference is that I'm doing something I believe in (cheesy as it sounds) and so am much happier in myself. I am also a million times healthier; when you read as much as I do about seaweed it's impossible not to eat a lot of the stuff.
Can we eat any Atlantic Kitchen seaweed in London restaurants?
We currently stock The Grain Store in Kings Cross, Moro on Exmouth market and NOPI in Belgravia.
Can you share a foodie tip with us? (ie new place to go in London, cooking tip or recipe, ingredient)
I am having my engagement drinks at POND in Dalston, it's a Hawaiian cocktail bar and restaurant. The menu is incredible, lots of pineapple, wasabi and seafood and the cocktails are also mouth-watering.
Who inspires you in the food world?
I really admire people who do something different when the tide is against because they have core principles. Chefs who make vegetables the main event when everyone else is obsessed with roasted chicken. Brands that stick to their guns on sustainability or quality issues when it would be so much easier to just cut costs, like Green & Blacks with their fairtrade certification. Food is ultimately about being in a position to have control over your own wellness so those who inspire people to be well are doing a really good thing in my view.
What is your dream for Atlantic Kitchen?
I'd like to see seaweed being available, accessible and familiar for most UK consumers by the end of this decade. At Atlantic Kitchen we know a lot about seaweed so we're in a good position to help lead this charge by providing high quality products and telling the world about the wonders of these unique vegetables.