IT'S CHRISTMAS!!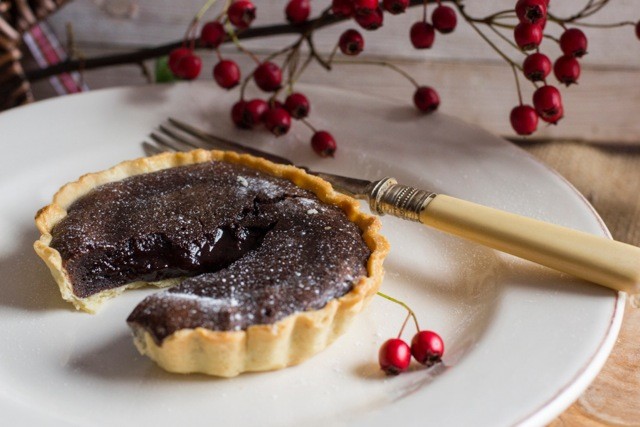 Chocolate fondant tart
This is such an impressive and elegant Christmas pudding. The only tricky part is getting it out of the oven at exactly the right moment as you really don't want to overcook it,  so try a practice one to see how your oven handles it.
Pastry
Serves 4 – 5 x 12cm tartlet tins
140g sifted plain flour
30g icing sugar
75g chilled, diced pastry
1 egg yolk
A dash of milk
Rub the butter into the flour and icing until the mixtures looks like fine breadcrumbs (it's very easy to do this in a food processor). Add the egg yolk and stir with a fork/blend until the pastry comes together. If it's too dry, add a splash of milk. This pastry in particular must be very cold so refrigerate for half an hour and make your hands are cold and you're not in a steaming hot kitchen. Roll the pastry thin (3-5mm) and cut out circles larger than your tartlet tin. Grease the tin well and carefully with a palette knife, lower the pastry carefully in and press gently against the fluted edges. Leave a little over hang. Blind bake for 10 mins at 180c and then remove your paper and beans for another 2 mins until lightly brown.  When cool, caredully shave down the over hang with a sharp knife and brush away crumbs with a pastry brush.
Filling
100g butter
150g plain chocolate, finely chopped, preferably with a high percentage of cocoa solids
150g golden caster sugar
75g plain flour
6 medium free-range eggs
For the filling, melt the butter in a bain marie, then add the chocolate and stir until smooth. Take off the heat and beat in the flour and sugar. Then the eggs one at a time.
Fill the tart cases to the top and bake for at 180c for 8-10 mins. The tarts should still be wobbly in the centre but just set – to tell it's set it shouldn't look like the raw mixture anymore but have a very thin and delicate film.  When you touch it lightly, it won't leave a finger print.
Eat immediately and garnish with seasonal fruit and finely chopped pistachios, or cut out a star and use as a stencil and sprinkle icing sugar around it.