Say it with Cauliflowers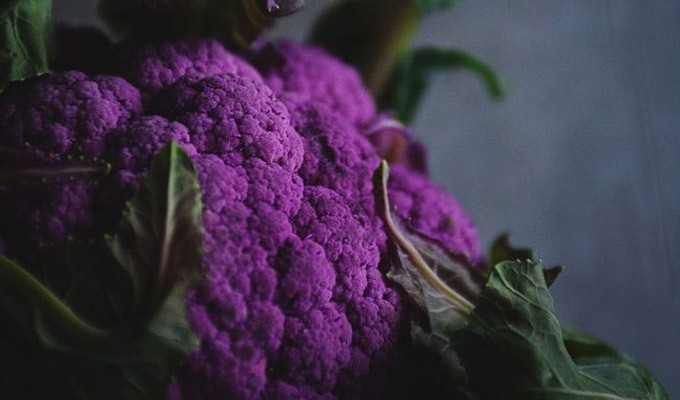 I am here today to celebrate the cauliflower: our much maligned, often overcooked and slightly bitter white friend.  As Sophie Haycock said in the Sunday Times Style Mag recently: "The cauliflower has not been treated well: this tasty vegetable is usually over boiled or baked under a crust of cheese". It's true: traditionally, we Brits haven't been able to see past the glory of Cauliflower Cheese.  We've been good at being stuck in our ways.  Who knew there were other things to do with cauliflower? Or sprouts, other than boil them to death?  And yorkshire pudding with anything other than beef? You must be having a laugh.
But recently the cauliflower, like the sprout before it, is fighting back.  No longer is it happy to be a one trick pony, blanketed in béchamel: boiled and baked within an inch of its life.  It can be the star!  It can be a carb replacement to keep our waistlines trim, so back off Courgetti, we're having a Cauli-moment.
CANAPE
Cauliflower Crostini with goats cheese, crispy bacon & honey
Cut all the florets off your cauliflower until you are left with the stalk. Slice into even chunks, about 2cm wide and, using a small, unfluted cookie cutter, cut out circles.
Fry the cauliflower discs in coconut oil until dark golden and soften slightly in the oven for 3 minutes at 180c.
Spoon or pipe on some strong, soft goats cheese and put back in the oven for a minute or two to warm and begin to melt. Separately chop and fry some streaky bacon until crispy and then chop into even smaller pieces. Drizzle the canapé with honey, tiny bacon pieces. Garnish with a small green sprig such as thyme or peashoots or a microherb.
---
SALAD
Cauliflower Coronation
Serves 2
1 small cauliflower or half a large one
Half a fresh mango
1 – 2 tsps curry powder (according to taste)
80g flaked almonds
400ml Natural yoghurt
250ml coconut cream
1 tbsp desiccated coconut (optional)
Juice and zest of 1 lime
A knob of grated fresh turmeric or a pinch of turmeric powder
A handful of coriander
Toast your almonds until golden. Cut your cauliflower into florets and blanch until al dente. Refresh immediately into cold water to stop it cooking.
Using a julienne peeler if you have one, a knife if not, cut your mango up into thin sticks. Mix the yoghurt, coconut, lime zest and juice, coriander, curry powder and turmeric together into a dressing. Fold in the cauliflower and mango and garnish with the almonds and chopped coriander.
---
SIDE
Cauliflower Mash
Serves 2
1 small cauliflower
2 cloves garlic, cut in half
Butter
1 tsp sugar or honey or agave (to counteract the bitterness)
A knob of butter (about 40g)
1 tsp salt
Pepper
Cauliflowers totally vary in size but normal sized one would probably do mash for 4 people.
Break your florets off the stalk, saving the stalk for Cauliflower crostini.
Steam the florets with the garlic cloves until soft. Blend with the butter, garlic, sugar, salt and pepper. You can blend it very smooth or leave it chunky. A tablespoon of cream cheese or a handful of cheddar or parmesan is never a bad addition.
---
SIDE
Cauliflower Rice: Healthy cauliflower sushi
We did this as a canapé for LK Bennett recently – looks like a faff but couldn't be easier.
Take half a cauliflower, break into florets and pulse in the blender until you have a rice / cous cous consistency. You can blanch your cauliflower first for a slightly fluffier texture. We didn't but it depends if you want it raw or not. If you've cooked it, let it cool. Stir through 1 tbsp melted coconut oil, ½ tbsp rice wine vinegar and some salt.
On a bamboo sushi mat, lay a nori sheet shiny side down. Press just under a cup of cauliflower rice onto the sheet, leaving an inch at the top and the bottom with no rice.
Lay your vegetables in the middle of your rice. You can use thin carrot batons, red cabbage, lettuce, alfafa sprouts, avocado … we used mango, red pepper, cucumber and coriander.
To roll, wet the edge further away from you with water. Starting with the end closest to you, roll tightly and gently away from you, sticking with the wet nori edge. Slice with a wet, sharp knife. It's best to eat these as quickly as you can so that the nori stays crispy.
Serve with a ginger, chilli and soy dipping sauce.
---
SALAD
Purple Cauliflower Tabbouleh
Purple Cauliflower is one of my favourite vegetables! It gets its colour from the presence of the antioxidant anthocyanin, which is also found in red cabbage and red wine. It's a cool-season crop so you can find it around now at farmer's markets etc.
Tabbouleh is an Arabic Salad, usually made with bulgar wheat. I have substituted the bulgar wheat for cauliflower cous cous.
Serves 4
Half a purple cauli
1 large bunch flatleaf parsley
Small bunch fresh mint
2-3 tbsp olive oil
Sea salt
2-3 tbsp freshly squeezed lemon juice
½ cucumber
Cherry tomatoes
Put the cauliflower and herbs in your blender and pulse it until the cauliflower resembles chunky cous cous. Peel ribbons of your cucumber with a peeler. Cut your cherry tomatoes in half. Mix everything together. Serve with hummus, flatbreads and barbecued chicken.
---
The Hemsley's Flower Power Pizza is another awesome recipe using cauliflower as a healthy replacement.
---
One of Peardrop's favourite chefs, Laoise Casey, is chef de partie down at The Dairy in Clapham. She also writes a recipe column for the Evening Standard called 'The London Lunchbox', where she invents a lunchbox based on a dish at one of London's restaurant. Back in December, she was inspired by The Manor's amazing cauliflower dish:
Cauliflower, grue de cacao, medjool dates & kefir by The Manor Clapham
http://www.standard.co.uk/lifestyle/foodanddrink/london-lunch-box-a-recipe-inspired-by-the-manor-restaurant-in-clapham-9895106.html
I was so intrigued by the dish that I hotfooted it down to Clapham with my Mum in tow.
I seriously recommend this place!  It was only opened in January by  the same team behind The Dairy.  It really is in a class of its own and affordable too at £42 for the tasting menu.  Still dreaming about the last two dishes ...
Kombucha, gin, cucumber & sesame
Yorkshire rhubarb, tonka bean custard, Kalamata, hazelnut granola ...
... olives with pudding?  who knew?  Even my Mum got her phone out!
We also really enjoyed the loos where there's a sign claiming they ran out of money to decorate them, so please help yourself to a pen.  Loving your style The Manor Clapham!