Steak & salsa verde crostini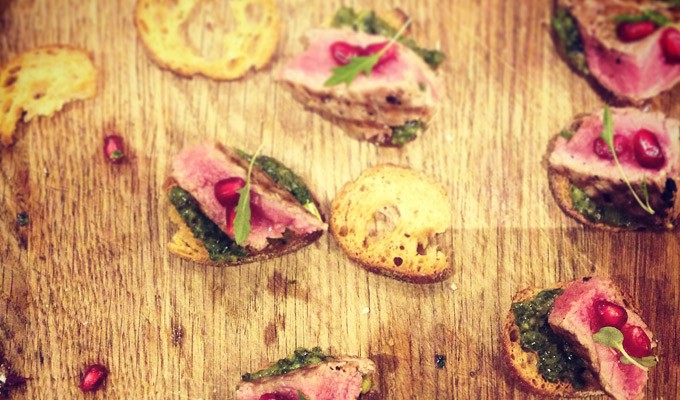 Don't be afraid of a canapé! Apart from being a bit fiddly, they are so easy when you know how. And people love them! This is a nice one to make over Easter. It works really well with lamb too – buy a lamb fillet from your butcher and marinate it in olive oil and garlic. Sear the fillet and cut into chunks.
Try and find a skinny baguette from a local bakery, there are lots of amazing artisan places in London. In French they are known as 'ficelle', meaning string.
Recipe
Makes about 20 canapes
Ingredients
1 sirloin steak
1 ficelle baguette
I pomegranate
1 bag of rocket
For the salsa verde
1 large bunch flat leaf parsley
1 bunch fresh basil
1 bunch fresh mint
1 bunch fresh coriander
12 cornichons
2 dsps capers
2 dsps Dijon mustard
4 tinned anchovy fillets and their oil
1 clove garlic
2 tbsp red wine vinegar
4 dsp extra virgin olive oil
sea salt
pepper
Method
Marinate the steak in olive oil, crushed garlic, finely chopped rosemary, salt and pepper. Earlier in the day, or the day before is best. Get it out of the fridge to room temperature before you cook it.
To make the crostini, slice the baguette thinly (about 8mm) and lay on a baking sheet. Drizzle with olive oil and salt and bake at 170c for 15-20 minutes until golden. They will keep for a few weeks.
Cut the pomegranate in half and bash out the seeds with a wooden spoons (do it over the sink or you'll have a pink kitchen!)
For the salsa verde, put all the ingredients in a blender, starting with the garlic and olive oil, so its well crushed. I usually like to keep it coarse but for the canapé it needs to be quite fine. Keep tasting to check the flavours are well balanced. Everyone likes it slightly differently.
Sear the steak on a really hot griddle pan until crisp and charred on the outside, but still pink on the inside. A minute or so on each side. Let it rest for another couple of minutes.
To assemble – spread salsa verde on the crostini and top with a nice triangular chunk of steak. Put two pomegranate seeds on top and a mini sprig of rocket. Eat one and check it if needs extra sea salt and pepper – it probably will. Serve immediately as the crostini goes soggy.