The London Lunchbox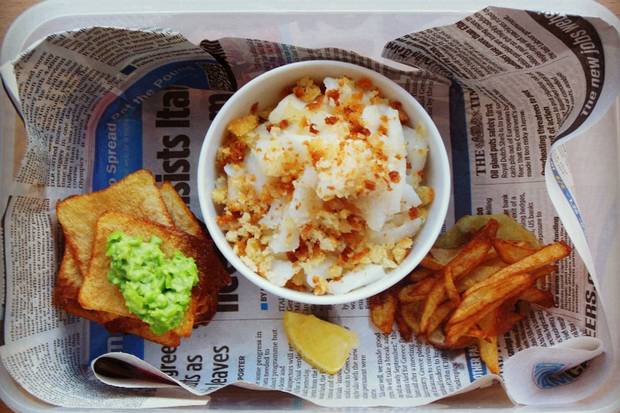 I am so proud of our amazing Irish chef Laoise, also chef de partie at The Dairy Clapham, who has landed a column for The Evening Standard online. And what better subject than lunch?!
Since graduating Leiths last year, she has followed her dream to become a chef working at Wandsworth's famous Ship, L'Autre Pied, and now the much acclaimed Dairy in Clapham.
A girl after my own heart, years of working in an HR office in Ireland drove her lunch crazy - no more "soggy sandwiches" for our Laoise.  Her brilliant weekly column contains a lunchbox recipe based on dishes from some of London's top restaurants.  I loved her Ship Lunch Box - Flaked cod salad with golden breadcrumbs, potato salad & crushed peas (above),  based on their signature dish.
http://www.standard.co.uk/lifestyle/london-life/london-lunch-box-restaurantinspired-recipes-to-eat-at-your-desk-9523703.html?origin=internalSearch
At Peardrop this week, we've decided to try out one of Laoise's recipes in one of our own lunch boxes.  This week she has been inspired by MEAT Liquor - how could lunch get better than ...
Southern fried chicken in a hot dog bun with blue cheese dip and coleslaw?!
Here's what Laoise says this week:
"Do you know those days where nothing goes right from morning to night? Those days where you're crammed onto the tube and someone grabs the last seat and you smile, but inside you're screaming at them. Those days where everything seems to run away from you and you wish you'd stayed in bed. The type of day where you blanch broad beans and peas together by mistake and spend an hour separating them. Those days call for a burger, cheese fries and chicken wings - comfort food - in one of my favourite places: MEATLiquor.
Despite my best persuasion skills I couldn't get the founders of MEATliquor, Yianni Papoutsis and Scott Collins to part with their top secret blue cheese recipe. Yianni did however kindly agree to share his top tips: he recommends using a blue cheese with a bit of bite. After you've combined the ingredients let the dip sit for a few hours to allow the flavours to develop (I like doing it overnight). When ready to serve, adjust the dip for seasoning.
I wish I'd be able to include their cheesy fries but I'd visions of them dripping all over the tube… "
What you will need:
2tbsp. sour cream
2 tbsp. buttermilk
½ tsp white wine vinegar
20g blue cheese of your choice, e.g Roquefort
Sea salt, black pepper to season
150ml olive oil
1 chicken breast
1 tbsp. plain flour
Pinch of cayenne pepper, turmeric, paprika
½ carrot
2 slices cabbage
Handful salad leaves
1 hot dog bun or roll
Bowl
Tablespoon
Knife
Frying pan
Cost to make per portion: £3.10
Preparation time: 15 minutes
How to make it:
Mix together 1 tbsp sour cream with 1 tbsp buttermilk, white wine vinegar and blue cheese. Season with salt and pepper.
Heat the olive oil in a frying pan over a medium heat. Slice the chicken breast into thin slices. Place in a bowl with 1 tbsp. buttermilk.
Mix the cayenne pepper, paprika and turmeric with the flour. Shake the excess buttermilk from the chicken slices and dip into the flour spice mix.
Shallow fry until cooked through (approximately 4 – 5 minutes).
Grate the carrot and thinly slice the cabbage. Mix together with 1 tbsp. sour cream. Season.
Serve the fried chicken in a hot dog bun with salad leaves, coleslaw and blue cheese dip on the side. Dip and enjoy.
Follow Laoise Casey on twitter @cuisine_genie
http://www.standard.co.uk/lifestyle/london-lunch-box-a-recipe-inspired-by-meatliquor-9604314.html
Our version will have a breadless option so you can feel a little bit virtuous!