I SHOULD COCO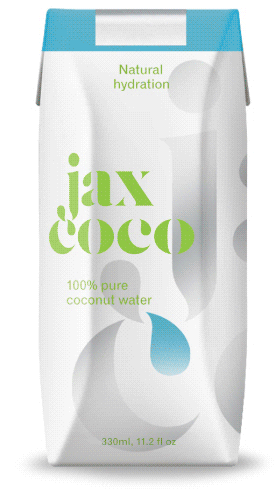 Coconut water is the most amazing drink, naturally free from fat, gluten, cholesterol, preservatives and artificial sweeteners.  Healthy yet delicious, it's perfect to accompany a Peardrop lunch. But which one should we sell?  Vitacoco was the first to arrive on the market and it's still the most popular, but does it actually taste the best?
Vitacoco was launched in 2003 when nobody really knew about coconut water.  Since then it's become a massive global brand and, naturally, many other brands have appeared on the market.
I reckoned an office blind taste test was the only way to find out.  There were some die hard Vita Coco fans in the office, one of whom keeps cases of the stuff locked up in his flat, so it was a good testing ground.
See ya later Vita Coco ... the results were unanimous ... everyone voted the way I suspected.
I am therefore proud to introduce JAX COCO!
Jax Coco is the brainchild of Jane and Max Gottschalk and Alex and Jason Ing, who founded Jax Coco in Hong Kong in 2012 after buying their own fully Eco coconut plantation, and observing the ever growing demand for coconut water globally and especially in Asia.  It's the world's first completely pure coconut water and has only 70 cals a carton.  Elton John and Stella McCartney are co owners (her husband is responsible for the super cool packaging) and it has countless celebrity followers.  They are also working with the Jamie Oliver foundation to educate children and young adults on healthy eating.  Not that I need winning over, but as a huge great big fan of our Jamie, this speaks to me!
But on top of all that, Jax Coco has a very clean eco conscience.  They have built the very first eco factory of it's kind. Currently under construction, the 'Jax Box' is made of 40ft recycled shipping containers.  The Jax Box will be a tourist attraction with a viewing gallery, hotel for visitors and accommodation for workers.  They're also unique in that they buy their coconuts directly from the farmers, thus putting the money back into the community.
Bottom line is, it tastes amazing and we're all pretty excited about the 10 cases we just lugged upstairs.
It's official!  Jax Coco is now for sale with Peardrop lunches.
£2 for a delicious 330ml - delivered to your desk chilled.  What more could you want?
http://www.telegraph.co.uk/women/womens-business/10207901/From-school-rebel-to-successful-entrepreneur-How-Jane-Gottschalk-founded-Jax-Coco.html